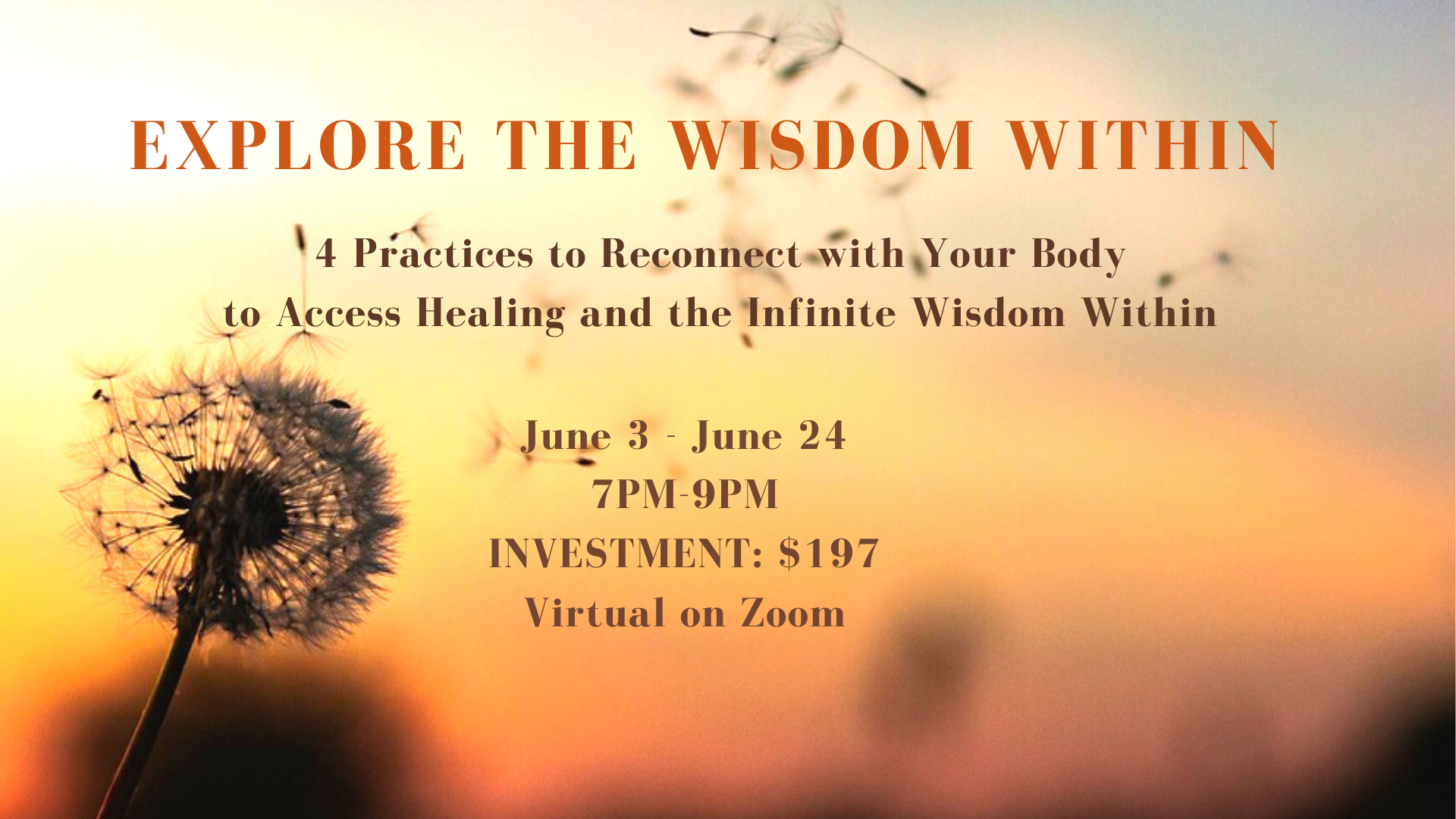 Week 1.
Body Awareness & Breath 
Would you like to understand the feedback and subtle signals and information your body it's sending you? To learn how to connect deeper with your body and its inner wisdom? Awareness and breath are powerful tools that would help us explore and trust the wisdom within. Knowing what you feel is the first step in knowing why you feel in a certain way. We are born with this inner wisdom, and I believe it's the time to learn to listen to it.
Week 2.
Grounding
Will help us open subtle channels in our bodies so we can recognize the rich, and nourishing energy that is abundantly provided by the larger field within which we exist.This process can help your energy become more effective, and your mind to be more focused. When your life flows better, you are less stressed. When you are less stressed, your body is more prepared to heal itself.
Week 3.
Boundaries 
Do you take too much responsibility for the emotions/actions of others or do you experience low self esteem, helplessness, confusion and/or expect someone to help you? Explore through movement the connection between certain muscles and your senses, emotions and boundaries. Boundaries are borders that are not only separating us physically from each other, but also emotionally, sexually, spiritually and relationally. Without boundaries you won't know where you end and the world begins. They help you gain a clearer sense of yourself, boost your self esteem and bolster your sense of identity.
Week 4.
Clearing limiting beliefs 
The body knows less than the brain! I'm not good enough! I don't belong! I'm a mistake! Being different is wrong! How many of those lies have you told yourself so far?Are you aware of how these Limiting Beliefs might be holding you back from living a fulfilling life? Awareness is the first step in recognizing myths and stories we created or adopted in the past. Once we uncover some of those limiting beliefs we will re-frame them and create new empowering ones. Actually neuroscience has shown that there are more neurotransmitters produced in the gut, which is also called the "second brain", than in the actual brain, and that the body registers incoming events and sensations before the mind or visual system can see them coming.
Location
107 Rhatigan Rd E NW
Edmonton, AB T6R1N4
Open Hours
Monday – Friday: 10am – 6pm
Saturday: 10am – 3pm